Sump Pumps and Sump Plumbing
Sump pumps keep home basements dry and protected from flooding.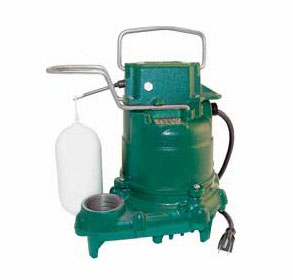 Sump pumps are installed in the lowest part of a basement or crawl space. They pump water away from the home and keep water from accumulating. A flooded basement can can cause the loss of personal property and time.
Water can accumulate in the basement very quickly, causing thousands of dollars in damage in a very short period. A sump pump can help to protect your basement and belongings by removing excess water and routing it away from your home.
Battery Back-up Sump Pumps
Since most sump pumps use the home's electricity to operate, many homeowners choose to add a battery back-up sump pump as a fail-safe. Battery back-up sump pumps run on a marine battery that remains charged when not in use, so it is always ready to operate when needed.
In the event of a power outage, the battery back-up sump pump will engage and continue to remove water from the basement since the primary sump pump won't work without power.
Keep Your Basement Dry
Sump plumbing is important for preventing basement flooding. It also helps to keep your basement dry. Removing water reduces the chance of developing mold or mildew and causing any related health issues. In addition, the reduced humidity will improve the indoor air quality of your home.
If you have a wet basement, standing water or want to consider a battery back-up sump pump, the plumbing technicians at Priority 1 Plumbing and Drain Services can discuss your options with you and make a recommendation to resolve your issue.
Get a Quote Today!
Click the button below and we will schedule an appointment to provide a free quote for sump pump service as soon as possible. Or, call our office at 703-777-7940. We look forward to hearing from you!