Sewer and Water Service
Priority 1 Plumbing and Drain Services provides sewer & water service repair & replacement.
The pipes coming into your home are water lines that provide you with clean fresh water. The pipes running out of your home are sewer lines that carry wastewater. Having a leak or blockage in your water or sewer line is inconvenient. It can also cause damage to your home. Issues with your water service, drains and main sewer line may not be recognized until there is a larger problem.
Water Service Repair or Replacement
Has your water bill been unexpectedly high? Do you have puddles of water in your yard, in the street or sidewalk? Is the water pressure in your home low?
These signs could point to a problem with your main line water service. Our technicians correct water service issues that cost you money or put your home at risk.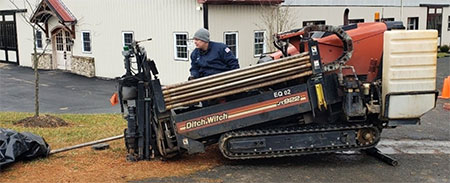 Sewer and Drain Repair or Replacement
If your drains are slow or you are getting wastewater backing up into a sink or tub, there may be a problem with your drains. Priority 1 Plumbing and Drain Services uses the latest techniques to make repairs to sewer or drains(s) depending on the type and severity of the problem.
Many stoppages can be resolved by snaking the drain and allowing water to flow through your pipes again. We can also use state of the art camera technology to inspect your drains to determine the location and type of blockage. We can then determine the best course of action.
Get a Quote Today!
Click the button below to schedule an appointment to provide a free quote for sewer and water service as soon as possible. Or, call our office at 703-777-7940. We look forward to hearing from you!