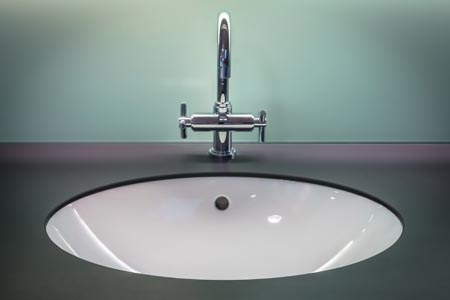 In this article, we will offer a few tips on choosing the right bathroom sink for your home so that you can make a confident and informed decision.
7 Tips for Choosing the Right Bathroom Sink
Establish a Budget
Establishing your spending plan is essential before searching for the ideal bathroom sink. Determining your budget is crucial because bathroom sinks can range in price from cheap to luxurious high-end. This will assist in limiting your options and make the selection process easier.
Consider Your Bathroom Layout and Size
The design and dimensions of your bathroom will be a significant factor in selecting the ideal washbasin. A pedestal sink or wall-mounted sink can be preferable to achieve maximum space in a small bathroom. If your bathroom is bigger, you may have more freedom to choose a sink type that suits your tastes in decor.
Decide on the Sink Material
Bathroom sinks are available in various materials, such as porcelain, ceramic, glass, stone, and metal. Each material has dependability, upkeep needs, and aesthetic appeal. While choosing a sink material, think about your personal preferences and the design of your bathroom.
Choose the Sink Style
There are several sink styles to choose from, including under mount, vessel, drop-in, and pedestal. Vessel sinks sit on top of the countertop and provide a touch of elegance, while under mount sinks are positioned beneath the countertop for a sleek and contemporary appearance. Drop-in sinks are mounted into the countertop and are a more convenient option. Small bathrooms are perfect for pedestal sinks because they are freestanding.
Determine the Faucet Compatibility
The compatibility of the faucet is an essential factor to take into account when choosing a bathroom sink. Certain sinks call for a particular faucet style, like a wall-mounted or single-hole tap. Prior to purchasing a sink, make sure to review the specs and ascertain its compatibility with the faucet.
Consider the Maintenance Requirements
Various sink materials demand various maintenance requirements. Glass and stone sinks may require more upkeep to keep them looking their best, although porcelain and ceramic sinks are robust and simple to clean. When purchasing, consider the sink's material's maintenance requirements.
Think about the Overall Design Aesthetic
Finally, when selecting a washbasin, pay attention to the bathroom's overall design style. The sink should blend nicely with the bathroom's design and color palette to give it a finished, pleasing appearance. To ensure the washbasin complements your bathroom's overall aesthetic, consider its color, shape, and texture.
In conclusion, selecting the ideal bathroom sink is crucial for every homeowner who wants to design a spacious, fashionable bathroom. You may make a choice that suits your needs and interests by keeping in mind the things we've covered. Get a reputable plumber to install the sink for you once you've decided on the type of sink you require!